History
Tradition in manufacturing
Founded in 1948, BISON-BIAL is the largest manufacturer of technological tooling for machining in Poland and has been an industry world leader for many decades.
At its inception, the company manufactured both bench vices and machine vices and, in 1950, launched the production of lathe chucks. In the sixties and seventies, BISON-BIAL developed its existing manufacturing halls and established new plants in Bielsk Podlaski, Kolno and Bialystok. The company began focusing on exports and product quality became first-class. In 1972, the company was one of the first to introduce Computer Management Systems in Poland and computerization quickly became a cornerstone in all spheres of its activity.

During this time, half of BISON-BIAL's export production was devoted to the Soviet Union, its biggest customer, and the breach of relations in 1990 caused a crisis in the factory. The company overcame the crisis on its own and became a Joint Stock Company in 1991 and was privatized in 1997.
BISON today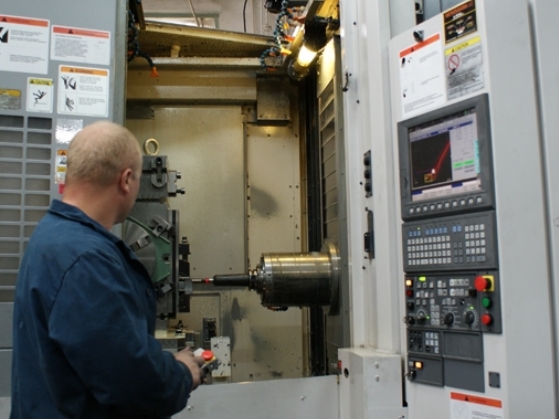 Today BISON-BIAL's vast product line is well known in both local and international markets. More than sixty years of experience and technological development have made BISON-BIAL products recognizable for their high quality, durability and precision. We continue to remain a leading manufacturer of machine tool accessories worldwide. The company also offers a wide range of services, including technological solutions for special machining application equipment upon individual customer requests. Only recently, in 2010, BISON-BIAL successfully introduced modern ERP solutions from SAP over all its company departments to meet the new challenges in its steadily growing worldwide business.

Currently, products carrying the BISON logo are sold in more than 70 countries on every continent of the world.
Our product range comprises more than 20.000 products and is composed of:
Manual Self-Centering and Independent Lathe Chucks
You can choose from one of BISON-BIAL's famous Lathe Chucks. They are built in two main lines: standard and precision
Power Chucks
BISON-BIAL's Power Chucks are made from high quality forged alloy steel. Their fundamental advantages are high load carrying capacity, durability and high clamping accuracy and repeatability
Hydraulic and Pneumatic Cylinders
You can easily combine BISON-BIAL's Power Chucks with one of our Hydraulic Cylinders or maybe you prefer to use integrated solutions with built-in pneumatic powering.
Precision, Machine and Bench Vises
BISON-BIAL manufactures Vises for fitter's works as well as for milling and grinding operations with the option of palletizing.
Milling and indexing fixtures
Rotary Tables and Indexing Fixtures are designed for milling, drilling, grinding and marking-off operations and permit equal and unequal indexing.
VDI toolholders
BISON-BIAL offers a wide range of VDI toolholders and heads.
Special request items according to individual customer needs
BISON-BIAL provides virtually all technological solutions for special machining application equipment upon individual customer requests. Decades of experience and highly specialized technological competences make us your number one partner when it comes to designing challenging workholding equipment for metal cutting at competitive prices. We look forward to working closely with you in order to provide the best engineered solution that will fit your individual needs and demands.
We attribute our continued success and long tradition of excellence to our commitment to upholding our three core values: quality, continuous improvement, and customer satisfaction.

Quality First

From the foundry to the final assembly room, quality control plays a large role in the production process at BISON-BIAL. ISO 9001 certified since 1997, our motto of 'quality first' is evident from the time a product is designed throughout its long life in our clients' machining processes. Here at BISON-BIAL we guarantee the highest quality, not only meeting industry standards but significantly beating them.

Continuous Improvement

BISON-BIAL has over 60-years of tradition in the production of technological tooling for metal cutting – with decades of experience we have continuously built our technical knowledge and improved our products and processes. This unique experience and knowhow, is embedded in our employees, as it grows and passes from generation to generation. At the same time we are permanently modernizing our manufacturing and organizational processes and extending our product portfolio to meet out customers high expectations. Our answer to the dynamic world surrounding us is to actively seek creative ideas and innovative solutions.

Customer Satisfaction

Our dedication and vertically integrated manufacturing process allow for close monitoring of the quality of products. We also use an individualized approach to our Customers, because the care of your satisfaction is our priority and imperative.